Among those many different things that the pandemic has made us do, one is attending events online. The need for virtual events has risen over the past few months and owing to the advantages they come with, virtual events are becoming everybody's go-to option. While virtual events can't give you the exact same experience as live events, they come with innumerable benefits; convenience and cost-effectiveness are to name a few. Researches show that the attendance between an in-person and a virtual event can vary up to 29%. With the increasing demands of virtual events over the months, many new elements are coming up lately. A well-featured platform will add to the overall experience for everyone associated with the event, right from the host to the attendees.

If you're looking out for a virtual event platform for your next event, here are some features mentioned below that you need to consider-
Said to be one of the most pivotal elements of an event platform, the personalization of a virtual event can directly impact the event's results. Like their in-person counterparts, virtual events also need to have a particular theme and arrangements and design all the elements keeping your brand, concept, and objective in mind. Personalization of the event platform has a direct influence on the branding of your company. Integrating your company's branding with the event will help you create compatible involvement with the attendees. Keep an eye out for the platforms that allow you to customize based on the theme, event criteria, sponsors, and exhibitors.
Even if you're the host of a day-long conference or a seminar, you still need to follow the basic event management rules and regulations. A virtual event also requires tools that allow you to manage invitations, attendees' registrations, a plan, and registration payment. It is always advisable to look out for a platform that helps you with all these tools, along with tracking the attendee data and keeping a record of it.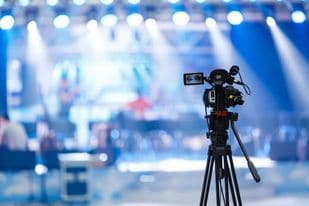 Consider the platform you're going to select for your next event; it will be your venue, as it would've been for the in-person event. And it is through this platform the attendees, guests, and sponsors will be taking part in your event. Being the event host, you would want to keep it convenient while keeping their comfort in mind. While choosing the platform, make sure it is neat and has a user-friendly interface. It gets pretty challenging to keep the attendees engaged during the event. Keep this in mind and opt for the platform one people don't find challenging to deal with.
Attending online events come with a lot of distractions, as compared to offline events. People find it extremely difficult to concentrate on virtual meetings or events compared to in-person meetings. 'Zoom Fatigue' is a term that describes how online meetings and calls leave people exhausted at the end of the day. Plan your next event accordingly, and keep your sessions concise. It would be best to consider these factors while planning your event and opting for a virtual event platform. While you look out for it, ask them if they offer tools and features to keep your audience engaged while the session is going on. You can choose various options like polls, Q&A sessions, surveys, games, and quizzes. Your audience should feel involved while they attend the session.
It is another effective tool to keep your attendees engaged. The majority of people attend these events to connect with like-minded people and learn something new. Virtual events do have some setbacks when it comes to connecting and meeting new people. Various platforms provide features like Networking Tables, AI Matchmaking Tool, Business Card Exchange, and others where you can have a one-on-one or a group chat with people you would like to connect with. Another important and influential feature that some platforms provide you with is B2B Meeting Scheduler, where one can schedule meetings with any other attendee or exhibitors. Go for the platforms which would enable your audience to connect. Such features would also increase audience retention for the entire duration of the event.
One of the biggest challenges that come in the way while organizing a virtual event is its monetization. With the entire world running on virtual platforms, this comes as the biggest concern for the organizers. Registration fees, virtual exhibitors, and sponsorship are a few of those ways you can monetize the event. There isn't much difference between sponsoring a live event and a virtual event. However, you can add some new elements while looking out for sponsors. You can offer lucrative offers to your sponsors instead of just placing their logo with others on a single page. You can divide it based on logo placements and place sponsors' logos on the welcome page, rotating banners, social media space, and customized pages demonstrating their products and services. Some platforms provide tools like Dynamic Banners Functionality increasing the sponsorship helping the brands as the attendee can directly reach out to them while the event is going on. There are unlimited options to select from but make sure the platform you are considering should have such tools which enable you to execute the ideas and make them look captivating.
Data Management and Analysis
One advantage that virtual events have over live events is that they allow you to monitor real-time data. An in-built tracker enables you to keep track of all the data so that you don't miss out on any valuable information related to audience engagement such as their interactivities and touchpoints. It will help you decide the success of the event. You can extract any information related to audience engagement at your event. The number of people who attended the event, the document they downloaded, the exhibitor they interacted with, and more. Various platforms are available that would help you with this. They provide you a real-time data dashboard and other data crucial for you, your sponsors, and exhibitors.
Various virtual events give the attendees a close to an in-person experience. Various replicated spaces depict the actual places and spaces. There is a welcome lounge to welcome the attendees, go through the objectives, watch videos introducing them to the event, and familiarize themselves with it. Various other zones depicted are a seminar hall or a conference room, considered the most vital section of the event, an exhibition area, and booths showcasing several products and services. Choose a platform that gives your attendees almost an in-person event experience.
Along with many other responsibilities that come your way while hosting a virtual event, one is its security. When thousands of people attend your event, it becomes your responsibility to keep it safe from hackers and other threats and ensure the utmost safety of your event. Platforms with full-bodied security will help you keep it guarded and allow all the attendees to keep their passwords safe, share resources securely, and connect without any risk.
Choose a platform that enables you to stream pre-recorded and live sessions, be it a seminar, workshop, session, debate, and more. According to some, pre-recorded sessions don't attract much of an audience as compared to live sessions. Live sessions allow you to interact with the audience. You can conduct live Q&A sessions, polls, live surveys, and more, but a recorded session offers advantages. They allow you to broadcast filtered content of better quality and eliminate the possibilities of last-minute mishaps. Look for the event platforms which would enable you to playback all the sessions on-demand once they are over. It helps those who couldn't attend the session, expanding its life.

As we sail through the pandemic, virtual events have become a crucial component of the event industry. Many organizations are picking them over in-person events, owing to their advantages like higher number of attendees, increased reach, cost-effectiveness, and environmental benefits. For some organizations, hosting events with a virtual component has been a long-standing practice, and for some, it is still an unexplored field.

With the factors described above, you can find yourself the best virtual event platform like Dreamcast, and make your next virtual event a great success.