Every business is getting digitalized, so it would be beneficial if you go with the same pace. Getting business online is no more an option left but a necessity! It will showcase your brand, products, or services to customers.
If you want to purchase any product or service online, you research the same online. But, do you know there is some backend functionality to keep the website up and functional to all users online? Yes, web hosting is a service that allows you to publish your website on the internet. 
The web hosting provider will offer you space to store all the website files, databases, folders. Different web hosting services exist like shared, WordPress, reseller, cloud hosting, cheap VPS and dedicated hosting.  
Amidst the different hosting options, VPS hosting is an optimal option to host any high-traffic website. It utilizes virtualization technology, which means you get 100% committed resources that you will not have to share with anyone else. You get high speed and performance when you host your website on a VPS server. 
VPS hosting is split into managed and unmanaged VPS hosting. Unmanaged VPS hosting is for those who can manage the server by themselves. Managed VPS hosting is ideal for those who don't want to handle the server by themselves. 
So, you now know how beneficial is VPS hosting. After this, do you want to know about one of the VPS hosting providers that offer powerful and fastest VPS hosting? 
You know how competitive the hosting industry is! Huge list of hosting providers like Hostgator, Bluehost, BigRock, Inmotion, MilesWeb and, so on. 
Among these, MilesWeb is a web hosting company that serves customers worldwide. They offer the affordable and fastest fully managed Linux Virtual Private Server Hosting for hosting websites/applications. 


They make use of Enterprise Grade Hardware powered by KVM virtualization technology. With this, you get excellent performance, control and security. 
Here are the top features of MilesWeb fully managed VPS hosting: 
24×7 Expert Support with complete VPS management. 
Risk-free service for 30 days. 
India-based VPS 
High-speed SSD storage
Know in brief about their fully managed VPS hosting below.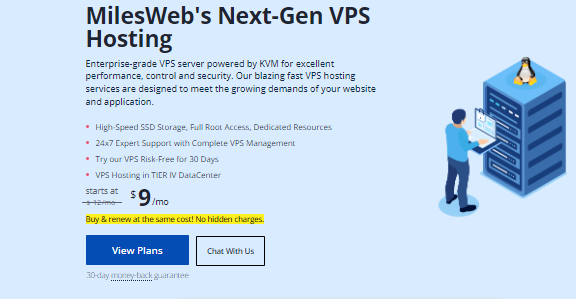 VPS Hosting Benefits
There are a lot of perks of VPS hosting.
It is secure as you get a virtual private hosting environment.
You get a highly robust infrastructure with VPS hosting.
It delivers the highest stability.
The management of a website is made easy with a control panel.
MilesWeb has ten affordable Linux VPS hosting plans. Plans start from V1 to V10.
With its fully managed VPS hosting plans, you get resources that range from 2 vCPU to 40 vCPU. RAM ranges from 2GB to 128 GB. Storage ranges from 50 GB to 500 GB. Bandwidth range from 500 GB to 3000 GB. They also include a dedicated IP with all the VPS hosting plans.
Also, you get a free Webuzo control panel to make your website management easy.
To know about their pricing, you can see the above image. Plan V1 is billed at $9/m only when you subscribe for one year. Like, wise, there is an increase in the pricing as you upgrade the plan. If you check their most advanced plan, V10, you will have to pay $465 for this.
Presently, you are getting a 25% off on their fully managed Linux VPS hosting plans. And to mention, these prices are given after a discount of 25%.
What Will You Get with MilesWeb VPS?
The features you will get with MilesWeb's VPS hosting plans.
VPS Hosting in India
It is crucial to know the location of your VPS server. MilesWeb provides Linux VPS hosting in India. Those having a target audience in India, this data center is excellent. When you choose a data center close to your target audience, it helps to improve the page loading speed of websites.
SSL Encryption
With MilesWeb's cheap VPS hosting plans, you get an SSL certificate for no additional charges. There will be automatic encryption of the information that passes to and from the virtual private server. Your website is secured from attackers with this.
Intel Xeon Processors
On MilesWeb VPS server nodes, they utilize Intel Xeon processors.
These are the high-powered and newest generation of processors having many CPU cores. Your websites/application never goes down with Intel Xeon processors. These are apt for running heavy-resource programs or mission-critical websites/applications.
Guaranteed Resources
For your website/app, you get 100% dedicated resources when you opt for VPS hosting. You can utilize all the resources assigned to you for hosting your heavy website/application. No fluctuations take place in the resources as they are guaranteed.
99.99% Uptime Guarantee
MilesWeb offers one of the industry's best uptime guarantees of 99.99%. They are confident in the highly robust infrastructure, security monitoring and management. With this uptime, your website does not have to sacrifice performance. And you get unbeatable speed to your website/application.
To Conclude
If you want to host a high-traffic website/application, MilesWeb's VPS hosting is a good-to-go option for you. With the managed VPS hosting, you get full-time human support from their VPS experts. Also, you get full server control which means, you have complete control over the entire server. They give a 30-day money-back guarantee in case you are unhappy with their services.
Get started with MilesWeb's lightning-fast VPS hosting and take your business to a new level of success