The value generated by metaverse is projected to touch $5 trillion by 2030. Looking at some more numbers from the latest McKinsey report, almost $120 billion in investment has flowed into the metaverse so far in 2022, and in the next 5 years, more than 15% of the corporate revenue is expected to come from the metaverse. These numbers are too big for any industry to ignore metaverse development. 

Even though the term metaverse hype has been around for quite some time now, corporations are finding it difficult to capitalize on this opportunity. This is because corporations are not clear whether the Metaverse is a gaming platform, a virtual retail store, or a virtual event. In essence, the metaverse is a new gateway to digital experiences that every industry can use in its own way.
In simple words, the metaverse is the future of the internet. It will provide users with an immersive experience, and it needs to have some foundational characteristics for the same, including the following:
a)      A sense of immersion

b)      User agency

c)      Real-time interaction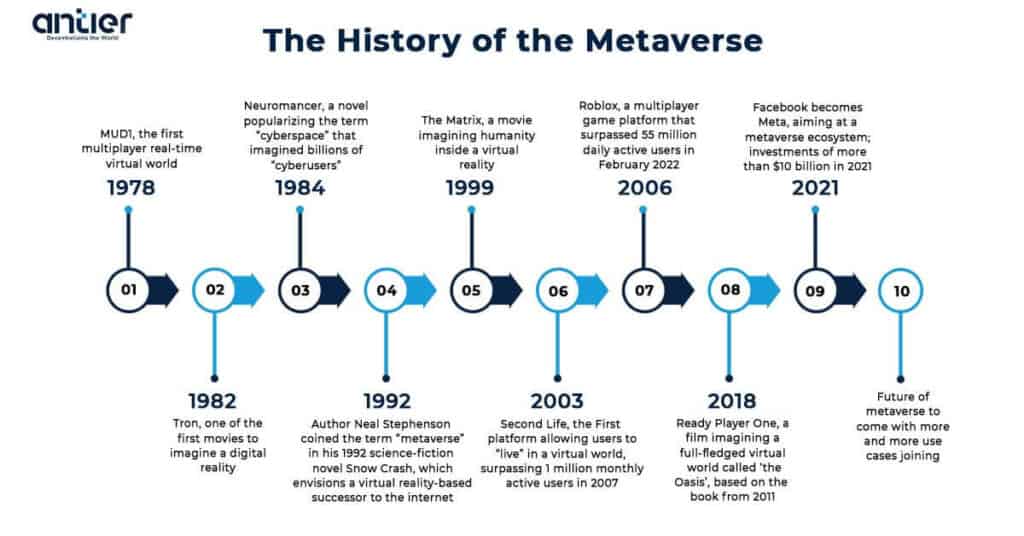 However, the industry will see the real adoption of the Metaverse only when the metaverse development services will make sure that the metaverse:
a)      Is interoperable across platforms and devices.
b)      Has a concurrency with thousands of people trying to interact simultaneously.
c)      Must go beyond gaming.
Which sectors are aggressively adopting the Metaverse?
The sectors leading the metaverse adoption are Energy, Media and Entertainment, Healthcare, Real Estate, Gaming, Finance, and Automotive. The sectors that are yet to explore the Metaverse are Construction, Transport and Logistics, Telecommunications, and more. However, from the leading sectors, an interesting observation has come up. These sectors are planning to dedicate a notable amount of digital investment budget to the metaverse. That means they will continue to invest in metaverse to increase their digital reach. 
This is about the industries that are engaging in some or the other kind of metaverse application development but before you dive into it, you must know the 4 most important categories of metaverse development. 
Technical breakdown of the Metaverse
The metaverse is essentially made up of ten different layers that are segregated into 4 categories: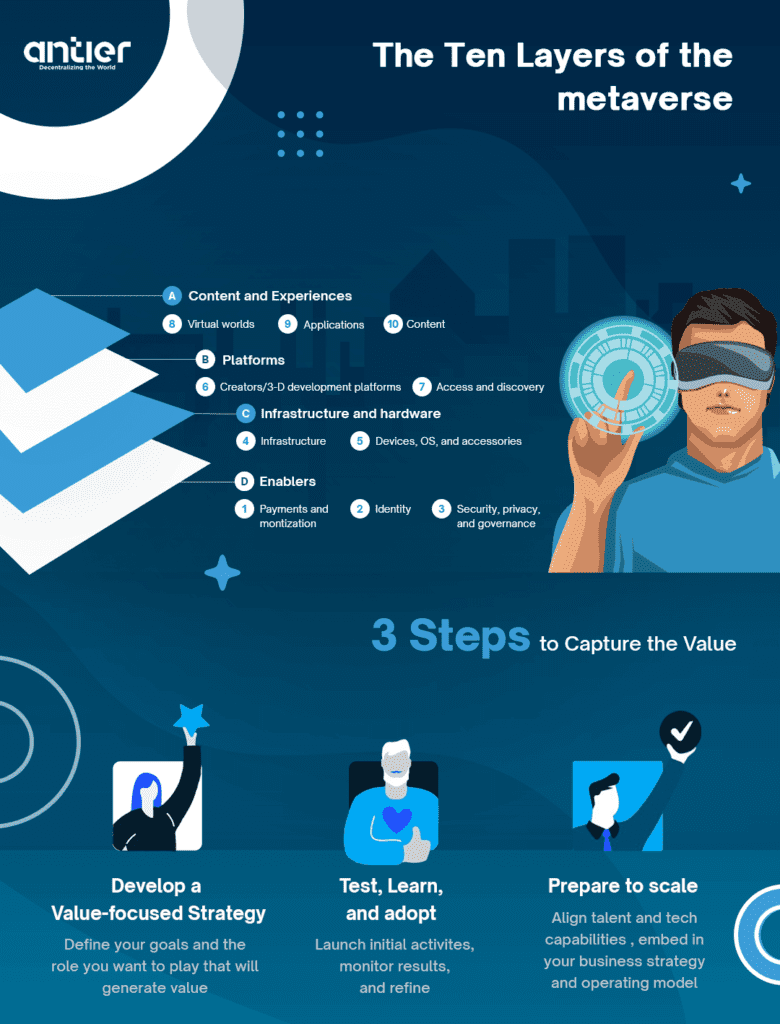 1. Content and experiences
This category includes content, applications, and the virtual world.
a) Content

This layer encompasses first-party content whether it is a developer's content or a creator's content.
b) Applications
These are use-case-based applications that include learning apps, collaboration apps, event apps, and more.
c) Virtual world
These environments offer virtual space for metaverse users to gather, connect, create and interact.
2. Metaverse Platforms
This category involves metaverse development of user and creator platforms.
a) Access and discovery
These platforms are designed with users in mind and they enable the discovery and distribution of content created by creators on the metaverse. In essence, it includes search bars, app stores, and browsers.
b) Creators
Metaverse creators need access to a core set of tools to build 3-D and immersive experiences for the platform users. These tools are either platform dedicated or integrated like game engines, AI services, creator tools, and more.
3. Infrastructure
a) Operating System
This layer of metaverse application development includes the hardware components, accessories, and OS layers that enable seamless interaction of metaverse with humans.
b) Infrastructure
The infrastructure includes cloud services, networks, and more that power metaverse.
4. Enablers
The last layer is Enablers, which ensures the security, privacy, governance, and content moderation for the entire metaverse. Apart from this, they enable monetization of interactions and manage digital identity to enable the metaverse economy to thrive.
Who is investing in metaverse development?
Broadly speaking, three categories of investors are pouring money into the metaverse and metaverse development services.
1) Technology giants
We have seen Facebook rename Meta and strategize its expansion as a Metaverse-focused platform. Apart from Meta, other tech giants like Microsoft, Apple, and Nvidia are aggressively building their presence in the metaverse sector. Some of them are doing it by acquiring smaller players in the space.
For example: Microsoft acquired Activision Blizzard, Nvidia acquired Omniverse, and more.
2) Venture capitalist
Metaverse and NFT players have been raising millions of dollars from Venture Capitalists. For example, OpenSea raised $300 million in a Series-C funding round and The Sandbox raised $93 million from SoftBank.
3) Non-tech brands
Not only tech but even non-tech brands are realizing the importance of penetrating the metaverse sector. We saw Lego invest in Epic Games; luxury brand Balenciaga also collaborated with Epic Games. In fact, Balenciaga invested in metaverse development to establish its dedicated metaverse division. Both tech and non-tech brands have onboarded the metaverse development wagon to stay ahead of the competition.
In what ways can industries engage with users in the Metaverse?
Over the last one-year metaverse application development has picked up the pace. The industries that are adopting and engaging in the metaverse are engaging with users in five major categories.
1) Gaming
Gaming is the main driver of metaverse development. For example, in May 2021, the gaming platform, Roblox, hosted the Gucci Garden. It was a two-week art installation that helped Gucci with brand awareness among millennial customers.
2) Socializing
The success of Twitter, Facebook, and Instagram has established that users are open to socializing in virtual spaces. With the introduction of platforms like Decentraland, users are enjoying more immersive socializing.
3) Fitness
The COVID-19 pandemic locked down almost the entire world and consumers started looking for more immersive and engaging forms of virtual fitness environments right from the comfort of their homes.
4) Commerce
In spite of the bearish crypto market, the NFT sector has been booming. More users and investors are investing in NFTs and metaverse development to showcase their NFTs in the metaverse environments. With the integration of NFT marketplaces and metaverse, a huge commercial opportunity has surfaced.
5) Remote learning or events
We have seen events like CoinGecko Con happening in the metaverse and both viewers and participants enjoyed the experience. Thus, the metaverse is an enabler of such learning events across the globe in a more engaging and immersive manner.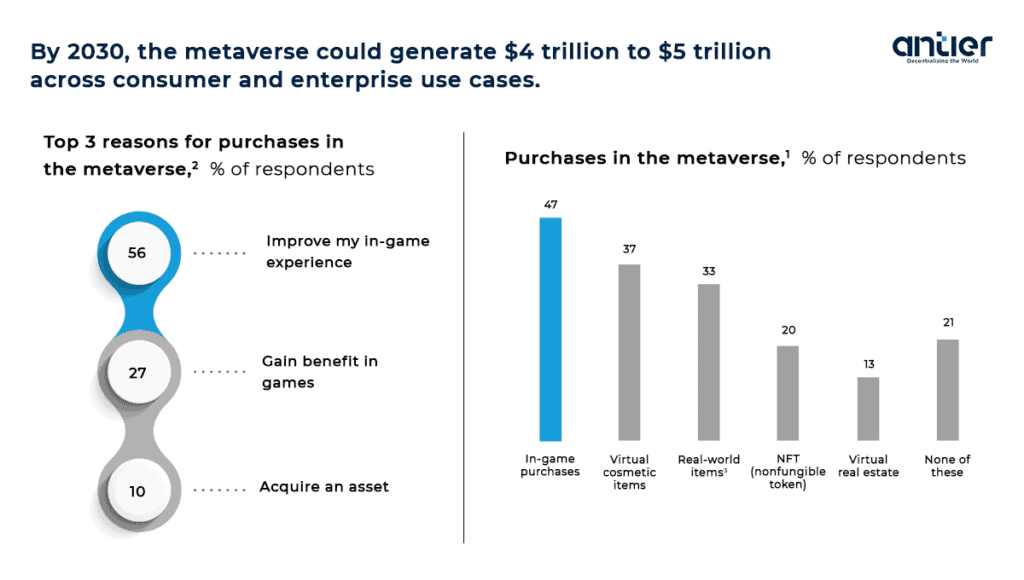 Top 10 ways enterprises or governments are using the metaverse
The metaverse is emerging as one of the biggest growth opportunities across industries. Over the last year, we have seen giants and government bodies investing in metaverse development. Let's take a look at what use-cases they are exploring:
1)      Product Marketing
In 2021, Coca-Cola launched digital assets in various marketing campaigns. They launched actionable NFT collectibles and more to market their products. 
2)      Customer Engagement
Gucci launched Gucci Garden on Roblox to build brand awareness. These Gardens allowed users to create digital avatars that could try Gucci accessories in their virtual spaces. 
3)      Next-iteration of e-commerce
AnamXR, the industry's first B2B web-based virtual eCommerce uses game-engine technology to deliver cloud-based, virtual e-commerce platforms. These platforms indulged in metaverse development to offer 3-D immersive shopping experiences to luxury brands. 
4)      Brand loyalty
Adidas released NFTs on Bored Ape Yacht Club that provided users with access to physical streetwear drops. Not only did it drive loyalty to the brand, but also helped in community building around Adidas virtual goods. 
5)      Customer service
Customer support tools in the metaverse are being rolled-out. These tools enable user feedback, offer VR support, and enable virtual identity verification. 
 6)      Education
The virtual campus is being developed in the metaverse for real-time lectures. These virtual campuses offer breakout spaces and outdoor recreational areas. 
7)      Recruitment
The Sandbox hosts recruitment services of The Havas Group. These improve candidate onboard experiences. 
8)      Digital twins
Manufacturing companies like BMW are investing in metaverse development to create digital twins of entire factories. They are designing products with high-end Nvidia's Omniverse technology.
9)      Public services
Government bodies are experimenting with the metaverse to offer more immersive public services. Seoul aims to achieve this by 2030. 
10)  Virtual tourism
COVID-19-inflicted lockdown shook the tourism industry and that is when tourism giants started exploring the metaverse for virtual tourism. 
Metaverse application development is picking up pace but it can thrive when it is developed only with a people-first experience. These applications need to be designed responsibly and a shift from social to societal is a must that will enable people to participate and express themselves fully.
If you are planning to create your metaverse experience, it is advisable to seek an experienced and reliable technology partner. The metaverse development company you choose should provide business-oriented metaverse development services to help you accomplish your goals.

Related article, Web3.0, The World of World of Blockchains, NFTs and Metaverse